Back to Management And Board
Terry B. Bonno
Senior Vice President, Industry and Community Relations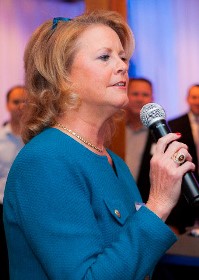 Terry B. Bonno is Senior Vice President, Industry and Community Relations, of Transocean Ltd.
Before being named to her current position in 2017, Ms. Bonno served as Senior Vice President, Marketing, and previously, as Director, Marketing North and South America Unit (AMU), which covers the U.S. Gulf of Mexico, Canada, Trinidad and Brazil. She brings 33 years of industry experience, including 17 years with Global Marine Inc. and Applied Drilling Technology Inc., two subsidiaries of GlobalSantaFe Corporation that were assumed in a 2007 merger with the company. Additionally, she spent two years with R&B Falcon Corporation's Turnkey Group as Director of Marketing and Contracts. Ms. Bonno has spent 14 years at Transocean, where she has served in various management positions in accounting, corporate planning and marketing, including as Manager Sales and Contracts Turnkey, Manager Asset Sales and Senior Sales Representative North America. She also served as a Marketing Manager in the company's Europe and Africa Unit (EAU).
Ms. Bonno is a director of NOW Inc. (NYSE: DNOW), a spin-off of the distribution business of National Oilwell Varco, Inc. (NYSE: NOV). She is a Certified Public Accountant and holds a Bachelor's degree in Business Administration - Accounting from Stephen F. Austin State University.
"Being in service to our customers with passion, commitment, and alignment ensures success for them, which means success for us. We want to be on our customer's winning team."