Back to Management And Board
John Stobart
Executive Vice President, Chief Operating Officer and Chief Performance Officer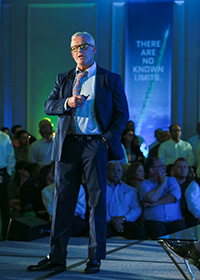 John Stobart is Executive Vice President, Chief Operating Officer and Chief Performance Officer of Transocean Ltd.
In this role, Mr. Stobart is responsible for driving Transocean's culture of efficiency and continuous improvement, leading the company's efforts to differentiate itself through the development and application of new technologies and delivering safe and efficient operations. Before taking on this expanded role in September 2017, Mr. Stobart served as Executive Vice President and Chief Operating Officer since October 2012 when he joined Transocean from BHP Billiton Petroleum, where he served as Vice President, Global Drilling in the United States since 2011. From 1995 to 2011, Mr. Stobart served as BHP Billiton Petroleum's Worldwide Drilling Manager in Australia, the United Kingdom and United States. From 1988 to 1995, he served as its Senior Drilling Engineer, Senior Drilling Supervisor, Drilling Superintendent and Drilling Manager in the United Arab Emirates, Oman, India, Burma, Malaysia, Vietnam and Australia. From 1984 to 1988, Mr. Stobart served at Husky/Bow Valley as Engineering Manager, and from 1979 to 1984 he worked in engineering roles at Dome Petroleum/Canadian Marine Drilling. He began his career on land rigs in Canada and the High Arctic in 1971.

Mr. Stobart received his Bachelor's degree in Mechanical Engineering from the University of Calgary and has also completed the London Business School Accelerated Development program.
"We must deliver exceptional performance in safety and efficiency. We must exceed the expectations of our employees, customers and investors in every way, every day on every rig. We must be relentless in our pursuit of excellence."